Best Honeymoon Destinations in Uganda Africa, Here is exactly what you are looking for.
All after the wedding happiness, a couple needs to get themselves lost in the fun of an amazing place a Honeymoon destination only just to enjoy each other's company more. Truthfully, planning a honeymoon is not something one should wake up one morning and bump to, there needs time to gather information, think of places that will surely bring out the best in you both (Couple) "Best honeymoon destinations in Uganda".
You could be looking for a classy place, Romantic, Out of the Ordinary, different, beautiful, doable and a mind settling place but at the same time not too costly.
Here are some of the Top Best Honeymoon destinations you could possibly enjoy your honeymoon period at. These include luxurious Lodges, National Parks, Islands, Hotels and Activities as you read on the list below;
#1 Papaya Lake Lodge: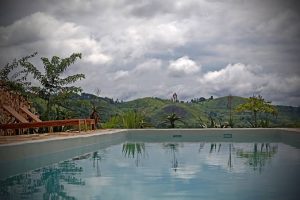 Within the Kibale forest region, there is the Papaya Lake Lodge. This lodge overlooks two beautiful crater lakes. The romantic ambience at this place will by now mean leave you the same. The lakes created amazing scenery for pictures.
There is a nice swimming pool at which you can watch the crater lakes from a distance, the Rwenzori mountains, and a view of the surrounding area. Privacy is a guarantee since the cottages are all set apart from each other.
To add activities to the time for the stay, you can actually watch a variety of wildlife and birdlife from the Kibale National Park.
#2 Sanctuary Gorilla Forest Camp Lodge. (Bwindi Impenetrable Forest).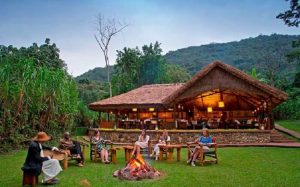 This is the Top honeymoon site in the Bwindi Impenetrable Forest, this is a place where the Bwindi Impenetrable National Park is famously known for its large number of Gorillas that inhabit here.
They usually get uninvited visitors "Mountain Gorillas" Who owns the Diverse Forest Overlooking the Lodge
This is a very perfect spot to enjoy Gorilla Trekking since it inhabits almost half of the world's gorillas. The lodge too has spacious cottages, that will get your romantic time accredited.
#3 Wild Waters Lodge in Jinja Uganda: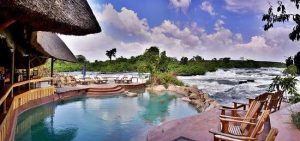 Located the Jinja city a top tourists destination. This luxurious Lodge is on an island of its own on the River Nile.
With traditionally thatched cottages, with timber floors, and the hand made furniture where you can peacefully sit and listen to the racing water sounds.
There are a very nice restaurant and bar at which a variety of local food, international foods, liquors, and all other beverages are.
You will surely have an unforgettable stay here.
#4 Paraa Safari Lodge: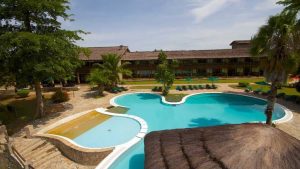 This beautiful lodge is located in Masindi, at the Murchison falls national park.
The Lodge offers a choice of fine dining throughout one's stay, and the Explorer's bar is the ideal watering hole after a day of wildlife discovery in Murchison Falls National Park.
There is always a boat cruise over the Nile waters in the afternoons of every single day. A unique blend of comfort, relaxation and adventure are a sure green light for what the Lodge has to offer. The Lodge has a swimming pool for those that love spending time in the waters. Your stay here will surely be remarkable.
#5 Chobe Safari Lodge: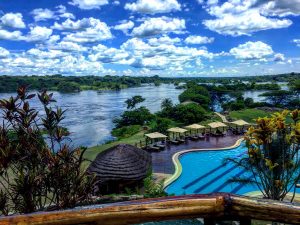 Also located in the North-Western Uganda, at Murchison falls, this Five star Lodge will surely impress even those that don't easily get impressed over things.
The view of the racing Nile waters accompanied by the sounds of the waters and birds that inhabit all around create a very pleasant ambience all around.
With a beautiful 3 tier separate swimming pool, terrace chill zones, one of a kind restaurant and bar, enjoying yourselves will be the order of the days all through.
The Lodge also has a fully packed Gift shop with a variety of craft items on which your gifting game could start off.
#6 Mweya Safari Lodge: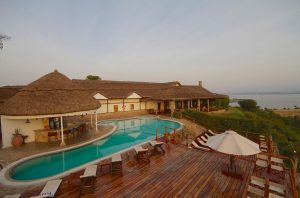 In the heart of Queen Elizabeth National Park lies this Spacious Lodge.
It is surrounded by the famous mountain of the moons "Mountain Rwenzori".
The game life of the surrounding National Park is quite interesting, with over 90 mammal species, over 600 bird species with will give you the chance to discover the beauty in the pearl of Africa.
Adding on to your romantic stay here, you can add activities such as; morning and evening game drives, boat cruises, Chimpanzee trekking, tree climbing, nature walks to mention but a few.
#7 SilverBack Lodge;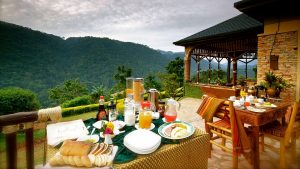 Located in the Buhoma sector of Bwindi Impenetrable Forest National Park in western Uganda, The Silverback Lodge is only a 5 minutes walk to the national park and has sweeping views of the valley and forests that surround it.
There is a variety of wildlife and a list of activities you could add to spice up your romantic adventure.
With half of the world's mountain gorilla population, this is the top site for Gorilla Trekking activities. Rich in birds with over 150 mammals and over 300 bird species.
Come and discover what more interesting things the Lodge has to offer.
#8 Kyaninga Lodge: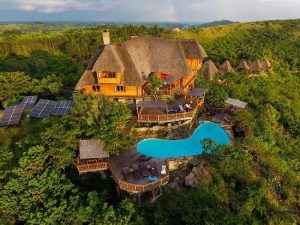 This is located 12 km north of Fort Portal town. Near a stunning crater Lake, lake kyaninga.
The Lodge has nice looking rooms fully self-contained, privately set apart.
From this spot, you can access the Kibale National Park after a 1-hour drive. A chimpanzee trekking can be an added activity in order to get a chance and see the chimpanzees.
There are over 1000 chimpanzees at the park. On the list of other activities; Swimming, fishing, SPA etc.
#9 Ngamba Chimpanzee Sanctuary: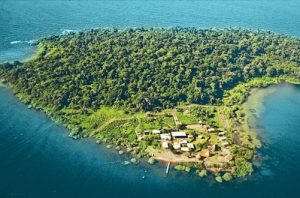 Sitting on an island (Ngamba) in late Victoria. The peaceful surrounding waters of the lake bring a fresh cool breeze to the island hence creating a very calm body and mind relaxing environment.
The sanctuary is home to over 50 orphaned chimpanzee gathered from different parts of the country.
There is a get chance to closely watch and interact with these amazing apes. Other activities include; kayaking, swimming, bird watching, nature trails and sunset boat cruises.
#10 Birdnest Resort: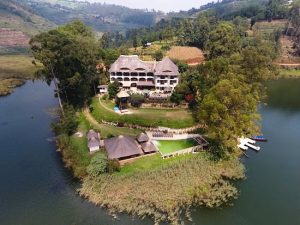 This resort is located in the southwestern Uganda at Lake Bunyonyi. Surrounded by green hills covered with farming terraces that give the place indeed an amazingly beautiful view. The resort has nice looking rooms for doubles, triples and family.
The resort offers free high-Speed Wi-Fi, Dstv, Free use of a Canoe, Free use of the Swimming pool and many more. While on your stay at this beautiful place, there is quite a number of activities you can opt to so as to give the adventurous story more paragraphs, such as;
Canoe trips, sail over the waters on a canoe, paddles and life jackets are a must for safety, MotorBoat Trips, this will take you all around the several islands on the lake Bunyonyi, For example, the punishment island with a lot of history, Nature/ Community Walks, Gorilla Trekking, Bird Watching, Visiting the Back Smith of Bukovina.
---
I believe with this brief Insight into some of the Top Honeymoon Destinations in Uganda you will be able to select one where you'll come to enjoy the Romantic ambience, nature in the Pearl of Africa.
"I still keep my hands all together that you select us to lead and guide you there on to the Best Honeymoon destinations in Uganda Today."

Check out more interesting Honeymoon Destinations Packages that Lead your way to explore a beautiful Heaven in Uganda, Rwanda & Africa Today.