When you start planning your Serengeti adventure, you'll soon learn about "the Big Five."
These are the five most popular animals to search for while on your on a Serengeti Adventure African Safari: the lion, leopard, buffalo, elephant and rhinoceros. "Big" doesn't have to do with size.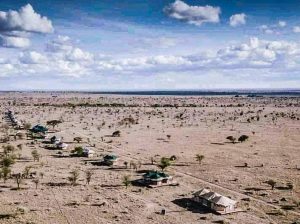 The term originated with big game hunters, who deemed these the most challenging large animals to corner and shoot. But in the Serengeti National Park, the only shooting is done with a camera!
Nonetheless, the Big Five still maintain their allure. When you're out on game drives, your safari guide will help you check off your sightings of these sought-after animals. You're likely to spot some of them right at Safari Lodges. They might come for a drink at our two watering holes, or stroll by while you're relaxing on your guest room's private sundeck.
Here's more about the Serengeti Adventure Big Five:
1. Lions are remarkably easy to spot. The Serengeti is believed to hold Africa's largest lion population – with more than 3,000 lions in the park.
2. Leopards are more challenging, since their camouflage pattern makes them difficult to see on the ground. You're more likely to find a leopard resting in a tall tree. 3. Buffalo live in the Serengeti in very healthy numbers. You might witness a herd of 1,000 or more.
4. African Elephants travel in herds of 2 to 24. They are frequent visitors to our watering holes.
5. The rhinoceros can be the most challenging animal to spot in the Serengeti. But with an expert safari guide, you might get lucky!
Why not create your own personal Big Five checklist? After all, there are over 70 species of mammals in the Serengeti, including zebra, wildebeest, cheetah, gazelle, hyena, impala, baboon and giraffe.
For birdwatchers, the Serengeti Adventure Safari Park is a dream destination with about 500 bird species, including the ostrich, secretary bird, lovebird and vulture.
Our African culture Safaris team will do our best to help you track down your favorite animals and make all your Serengeti Safari dreams come true.