1 Day Mabamba Swamp Tour, a shoebill Birding Safari in Uganda Native Swamp.
Did you Want to go out for a mini-day birding tour from Entebbe or Kampala, our 1 Day Mabamba swamp birding tour is so able for the most unique birds of Uganda? There are lots to encounter and also see over 100 different species of birds in just a day.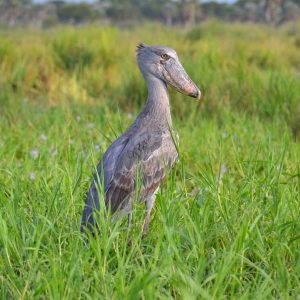 Hopefully, this is the number one destination to see the shoebill bird warming up tracking for its prey in the water-lodged wetlands that connect to lake Victoria.
So one has a one-day free and is fully interested in birding and shoebill tracks; the Mabamba birding trip is yet to be grabbed anytime possible.
Details of the day Mabamba swamp birding tour.
Wake up in the morning, have breakfast, and drive through the dirt roads that connect to the Mabamba swamp site.
On reaching the Mabamba grounds, we will hook up the swamp guide and enter the motorized canoe boat Into the bird-sounding area. This cruise will be for about 1.5 hours to 2 hours looking out for the different bird species including the Shoebill.
Immediately, we will see lots of colorful birds as we stock around looking for the desperate Dragon predator "the shoebill". There are also more sights of the kingfishers, herons, and egrets that will take us throughout the day.
Get back out of the waters after a successful hunt and later get back off the waters. Then embark on your journey for lunch or drive back to Kampala or Entebbe.
End of the 1 Day Mabamba Swamp tour
The Price for this Tour is 166$ – for 1 person & 115$ per person for 2 people.

What is needed on a 1 Day Mabamba Swamp Birding Tour;
A pair of binoculars
Camera
Rain jacket in case it rains
Cape
What's included in the Mabamba Shoebill Safari Tour
Transportation
Lunch (a Rolex Snack)
An English Speaking Driver/Guide
Mabamba Site Fees
Canoe Cruise Fees
Site Guide Fees