3 Days Flying Gorilla Safari to Bwindi Impenetrable National Park.
Basically, with our 3 Days Flying Gorilla Safari, you will have to save lots of stress on the road and only fly for 2 hours and 3 minutes to the Home of Mountain Gorillas. This is incredibly fantastic and fun with lots of aerial views of the majestic Bwindi forest.
Day 1: Fly a Caravan to Bwindi Impenetrable Forest.
We pick for Breakfast in the morning and transfer you to the airstrip to get on a charter plane and get to Bwindi Impenetrable Forest in just 2 hours and transfer to the lodge for Lunch.
This afternoon, you may choose to Visit the Local Bwata pygmy Trail or decide to have a local boat cruise on lake mutanda which gives a better sunset evening.
Day 2: Gorilla Tracking Experience
Start off the day with a cup of African coffee at 8:00 am. We will drive to the briefing point and meet park rangers to equip you with guidelines to follow while tracking the gorillas.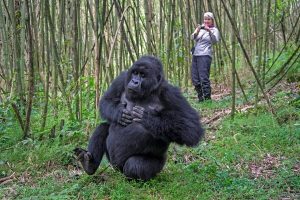 In a group of 8 people, a specific gorilla family will be assigned to you for tracking and the park rangers will then lead you into the forest to go lookout for the amazing mountain gorillas.
Tracking usually takes between 2 to 5 hours. Once you locate the gorilla family, you'll be given an hour to watch, and also take pictures. Please Note, No Flash Light.
Please make it a point to carry along with you a rain jacket and trekking boots. Drinking water and packed lunch will be provided.
After tracking, we shall return to the lodge, refresh and have lunch. In the afternoon, walk around the villages exploring different local communities living in and on the edges of the park.
Day 3: Fly Back to Entebbe and Fly Out.
Get on-road to Kisoro Airstrip and transfer back to Entebbe for your afternoon Flight out to your next destination.
End of 3 Days Flying Gorilla Safari in Uganda.