How much does it cost to go on a gorilla trekking in Africa? What does it cost to go on Gorilla Tracking in Uganda?
Gorilla Trekking is one of the most interesting wildlife encounters you shouldn't miss at any time given you are able to. so here are some of the facts about how worth it will cost to go on a gorilla trekking anywhere in Africa.
Gorillas are more like humans and have amazing characters which you yourself will be able to notice before anyone else says to you something about them.
In Africa, you can decide to Go Trekking in about three different countries, that's to say; Uganda, Rwanda, Democratic Republic of Congo, but all at different prices as indicated below.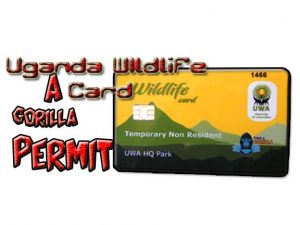 In Uganda:
A Gorilla permit in Uganda costs $600. This will be your only access sheet to the closest cousins. Apes are amazing and you will never stop wanting to meet them once you set up that close-eye interface.
The trekking activities can be done at two destinations in Uganda, namely; the Bwindi Impenetrable National Park and Mgahinga National Park.
In Rwanda:
A Gorilla permit in Rwanda costs $1500 each regardless of whether you are an international visitor or a resident in East Africa.
In a way to cater to the locals in the country, a small percentage of permits are sold to them. This is a destination in Eastern Africa with the most expensive permit compared to all the others.
At Volcanoes National Park, is where the trekking activities are done.
In the Democratic Republic of Congo:
The Democratic Republic of Congo offers the cheapest permit in comparison to all the others.
Due to the fact that DR Congo is not that easy to travel all through to the Virunga National Park, a permit costs as low as $450.
Booking permits on an individual basis are possible though they at the end of the day seem more expensive, than traveling/booking through a tours and travel company.
Difficulties that may come with Individual basis booking include;
If, for example, there was a delay on the way and you missed the trekking, permits are non-refundable.
Booking accommodation far from the gorilla trekking area may in one way or another make you miss out on the fun. For example, each hour the gorilla families do spread apart, so staying close to the vicinity will be advantageous.
We are looking forward to receiving you to Africa and taking you through remarkable encounters that will never get out of your mind.

---
The Packages that include Gorilla Trekking in Uganda are:
3 Days Gorilla Trekking Safari in Bwindi Forests
3 Days Mgahinga Gorilla Tracking Safari
4 Days  Gorilla Tour and Lake Bunyonyi Safari
5 Days Primates Safaris for Chimpanzees and Gorillas in Uganda
6 Days Uganda Gorilla and Chimpanzee Safari with Wildlife Game Drives
8 Days Uganda Gorilla Trekking Habituation and Wildlife Safari