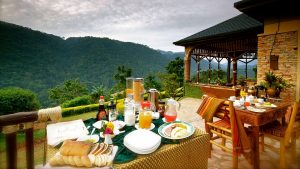 SilverBack Lodge;
Located in the Buhoma sector of Bwindi Impenetrable Forest National Park in western Uganda, The Silverback Lodge is only a 5 minutes walk to the national park and has sweeping views of the valley and forests that surround it.
There is a variety of wildlife and a list of activities you could add to spice up your romantic adventure.
With half of the world's mountain gorilla population, this is the top site for Gorilla Trekking activities. Rich in birds with over 150 mammals and over 300 bird species.
Come and discover what more interesting things the Lodge has to offer.