The lovely spots of amazing Uganda's Most Beautiful Waterfalls are open for a visit any time.
When we talk about Uganda's most beautiful waterfalls, we talk about paradise. A waterfall is a place where water flows over a vertical drop or a series of steep drops in the course of a stream or river.
With quite a number of numerous beautiful waterfalls in Uganda, we are taking an insight into the most beautiful waterfalls in Uganda and for their being beautiful, they are on the list of the most tourist destinations in here (Uganda). Several rivers on which these different waterfalls form, snake their way through forests, game parks, and mountain cliffs as you read more for the details below.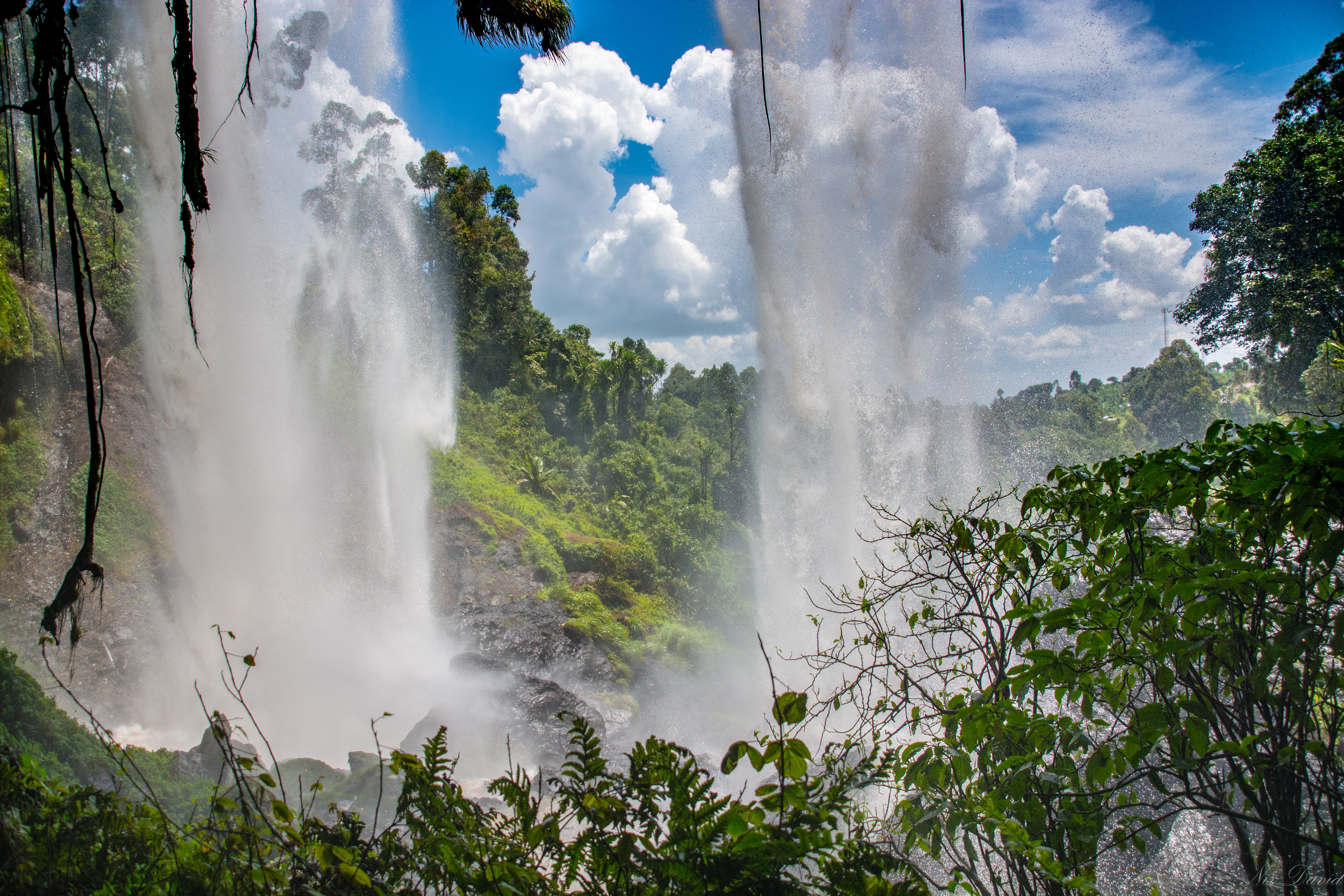 1. Sippi Falls in Kapchorwa
Located in the Eastern part of Uganda, through districts; Kapchorwa, Sironko, and Mbale district. The waterfalls have three series that channel through different areas.
The longest water drop is at Sippi with an estimated 100 meters long (328 feet). Being on the foothills of Mt. Elgon, Sipi offers a number of alternative activities such as mt hiking, rock climbing, and abseiling along the side of the 100m waterfalls, to mention but a few.
How does the name Sippi come about???
There is an indigenous plant at the river banks called 'Sep', it looks like the local bananas. This plant is used as medicine for fever and a skin infection so common in children called measles.
For tours in and around this place, there are quite a number of campsites and different lodges one can decide to spend days at, and covers all budgets.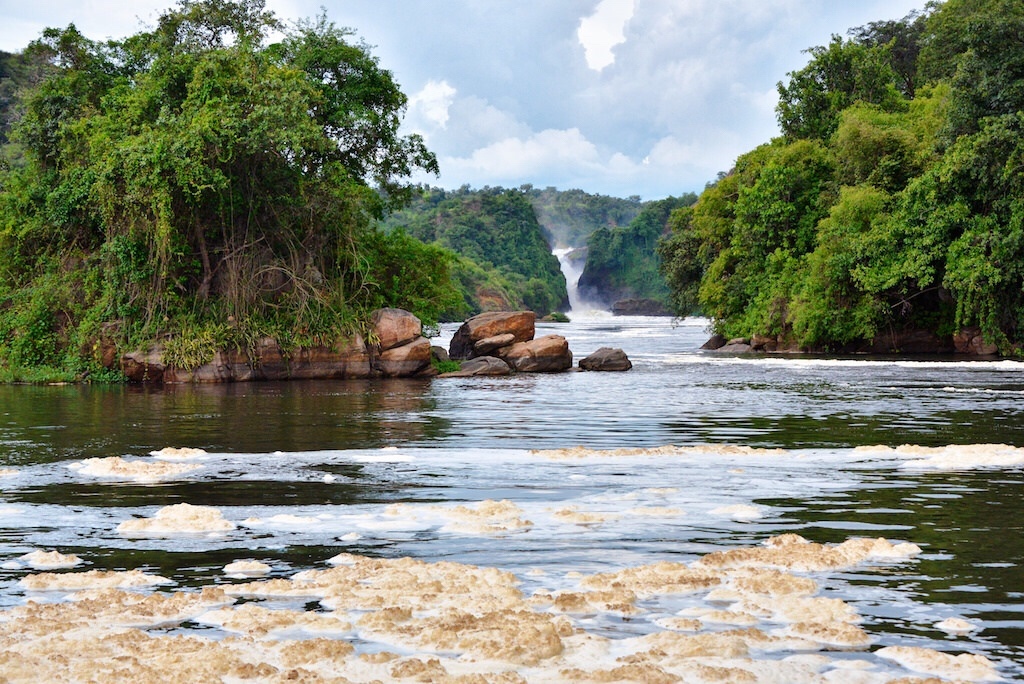 2. Murchison Falls in Murchison Falls National Park
This is located in the North Western part of Uganda in a district called Masindi. It's also known as Kabalega falls.
Its existence contributed so much to the designation of the magnificent Murchison falls National Park.
Murchison falls lies between two lakes on the White Nile river, namely; Lake Kyoga and Lake Albert.
The falls form due to the small gap between the rocks where water forces its way out running a length of 43 meters before it connects lake Albert. This small gorge is just 7 meters wide and water fights for its way through at this point thus creating a very powerful fall-through.
Why is it also referred to as "Kabalega falls"?
In the 1970s, in the reign of Idi Amin Dada, the name of the falls was changed to Kabalega falls named after the Omukama (means King) of Bunyoro Kingdom- Kabalega though it was later changed back to Murchison Falls after the downfall of Idi Amin because it was never officiated.
The Waterfalls also has a National Park attached to it and offers habitats to a wide variety of animals.
On a visit here, there is no way you can only enjoy the magnificent waterfalls only. You will too take a special remarkable encounter with animals such as; hippopotamuses at the Hippo pool, the world's heaviest animal the Elephant, giraffes, and Leopards with others on the list too.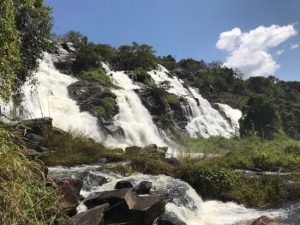 3. Aruu Falls in Pader / Gulu
These falls are located in Padre District in Northern Uganda about 386 Km from Kampala the capital city. This is another place you should never miss visiting while on your visit to Uganda.
The cascading streams of roaring waterfalls offer a thrilling unforgettable and adventurous experience due to the way they flow down the rocks in a snake-like movement, to some point someone told me she thought it was a fountain-like design, lol.
Taking a bath under the falls will leave you mesmerized, this is a God-given shower tube bath.
It offers quite an amazing campsite called the Aruu campsite that will cover the accommodation questions, and you will experience the true African wilderness.
This is a Hidden Treasure, get here and you'll count my statement as Valid.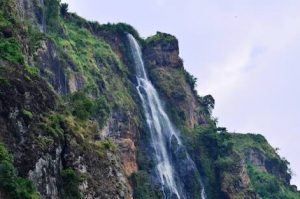 4. Wanale Falls in Mbale
Wanale Ridge waterfalls are located about 6 kilometers from Mable town in Eastern Uganda. This is not so far away from Sipi falls. The water runs down the steep cliff walls in a length of about 2060 meters.
Due to its height above the grounds, anywhere within Mbale town, you'll be able to stretch your eyes far and see the beautiful falls.
Wanale is believed to have been named after one of the sons of Masaba, the patriarch of the Bagisu; it is again thought to be the origin of Nabarwa, the Kalenjin woman who prevailed upon Masaba to get circumcised before they got married.
Activities such as mountain hiking will of course usher you into other beautiful attractions such as the old caves like Khaukha the most prominent cave in the region. On the cave walls, you'll see scribbled writing for previous visitors in lines like "Mary Ferguson was here" and you too could add yours for all other upcoming visitors to read. It's wallboard of honor, lol.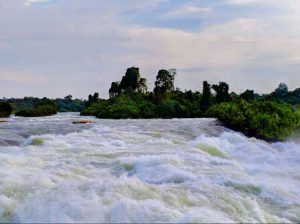 5. Itanda Falls in Jinja
The falls are located in Jinja Uganda. This is one of the top adventurous places you will ever encounter in Uganda. This spectacular set of rapids and waterfalls is commonly known to kayakers and rafters, also known to Prince William of Great Britain.
Itanda has three levels of rapids, including Grade 6, the most difficult, Grade 5, and Grade 4. It is a spectacular and dangerous place so one should be careful and follow the guidelines for an amazing moment while here.
A while ago, all focus on the Nile in Jinja was at the Bujagali falls and at the source of the Nile but now the Bujagali falls are no more due to the construction of the Dam and power station at that destination, and little did people know that there was a spectacular Itanda falls.
On a visit to Jinja, don't just go for only the source of the Nile and that's all, this beautiful place has also got a lot to offer. Come see this too!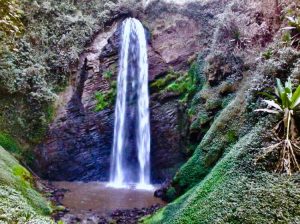 6. Kisiizi Falls in Rukungiri
Traveling over 400 km from Kampala the capital city to a district called Rukungiri there lies the Kisiizi falls.
It is over 40 meters high as the water pours down to the river.
The water runs down from Nyakishenyi hills and sprinkles down to the rocks pouring down to the river which is a dam that supplies electricity to the whole area.
Many people believe it's always raining at the falls due to the way water sprinkles down the rocks. It feels like more than a kilometer away from the top to the bottom and one will surely feel dizzy when standing at the top and looking down.
Over 58 years ago, any girl in Rukungiri, Kabale, and Kanungu who would get pregnant before getting married, would be thrown from the top for the falls to the bottom and they would die because it was believed that they had committed an abomination in the society. The girl would be killed by her very family members because that was a disgrace to the family as a whole.
As a ritual, all women in this region were expected to get married when they were still virgins. This culture did not only discourage sex before marriage but also held a death sentence for any girl that became pregnant.
Looking at falls now one can not easily associate the place with the dark history of deaths, terrified wide-eyed girls, screaming and shouting for help.
And today it's one of the leading tourist attractions in Uganda and a source of hydroelectric power that lights up all homes in the area and runs industries too.
Kisizi town is one of the areas in Uganda that never experience load shedding.
Kisizi falls registers a big number of tourists every year due to its history read about by some and those that hear of it for the first time. It's an amazingly beautiful place you shouldn't miss visiting while in Uganda.
7. Sezibwa Falls in Mukono
This is located in Mukono District in Uganda about 20 miles on the Kampala Jinja highway. It's a heritage site affiliated with the Buganda kingdom. The falls are on the river Ssezibwa which flows from between lake Victoria and Lake Kyoga. The falls are at a height of about 7 meters high.
The way water fights for its way through creates an audible hissing sound. The falls' beautiful scenery covered with evergreen vegetation is accompanied by a range of wildlife, including animals and birds. Not only the falls the site has to offer, but you will also encounter a history of the Buganda culture, where you'll see ancient caves. The site also offers activities like;
Rock climbing: the big naturally laid rock all around seem hard to hike on but with the urge of wanting to see how it actually looks at the top, one will, by all means, get to the top and it will be all ways look extremely beautiful not only to my eyes but to your eyes too.
Being a site affiliated with the Buganda kingdom, you will encounter more of the cultural activities like visiting the shrines where worshipping takes place and you'll also see some of the local things used in worshipping such as backCloth, beans, and coffee to mention a few.
The site also offers a camping site to visitors who would love to do some camping. Just a few meters from the falls lies a beautiful site one can decide to spend time escaping the usual noisy town hotels, cities, and so on.
To all bird lovers out there, at the very site, you will be able to visually access a variety of different bird species such as; olive sunbird, woodland KingFishers, parrots, red-eyed dove, little green sunbird, great blue turaco, black and white mankins cutting the list short. Why miss this spot on your visit to Uganda??? Sure, it's quite amazing.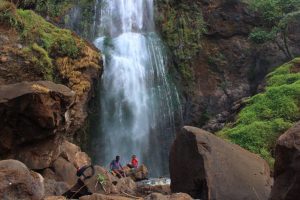 8. Sisiyi waterfalls in Kapchorwa
The magnificent waterfalls are located in the eastern part of Uganda in a district called Bulambiri. For a drive of about 40 km east of Mbale town, you will be at your destination.
To this destination, let's call it a double fun tour site, why??? Let's say you are on your way to the mountain Elgon National Park, this could be a very good stopover to kick start the adventurous tour. Deciding to make this the first glimpse of beauty, one can after here take the way to Kidepo Valley National Park also.
On your arrival at the falls, an echo loud hissing sound of the fighting for way waters welcomes you to the fascinating waterfalls.
Take note: One could say Sisiyi and you mistakenly take it as Sippi falls because of the fact that the Sisiyi falls are not as popular as the Sippi falls. To make this clear, in the eastern part of Uganda, there are Sisiyi Waterfalls and the Sippi Falls too.
The waterfalls are about 100 meters off the Sisiyi cliff. The area is covered with verdant vegetation of coffee and banana plantations, eucalyptus is part of it too and other trees from which locals get firewood for home use.
Thinking of accommodation here??? Yes.
There are a number of cottages around the falls and at these, you can decide to get yourself a spacious room that does cover your budget. A list of these includes: Sisiyi falls resort.
A clue on other fascinating activities to enjoy at the waterfalls include; nature walks/hiking, bird watching, and Rock climbing to the top of the fall (at 110 meters high).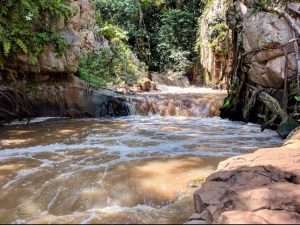 9. Griffin Falls at Mabira Forest Camp.
This is also known as the Mabira Forest Camp. With convenience, the Griffin Falls Camp has located about 10km off the Kampala Jinja highway.
On getting to the large beautiful Mabira Forest, A 45-minute or less walk through the rain forest will get you to a destination where more fun will be getting on a kick start.
Previously, in the same destination, visitors had not even moved for 10 minutes but they couldn't wait to get to the site. It's such an amazing place that everybody wants to get there in no minutes.
Other activities that can be done at the destination include; hiking over the hills, Mangabey Tracking, Guided bird watching, and Zip Lining to mention a few.
The Griffin Falls Camp is owned by the Mabira Forest Integrated Community Organisation, a Non-Governmental Organisation aiming at improving the livelihoods and welfare of the locals by conserving the environment through development so all the money collections at the site are put into development projects.
Before you usher into the city of adventure (Jinja) this can too be a very good stopover to kick start the adventurous tour in Uganda.
We appreciate for reading our blog! share for the best. #share

Check out more interesting Packages that Lead your way to explore a beautiful Heaven in Uganda, Rwanda & Africa Today.