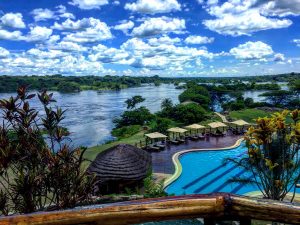 Chobe Safari Lodge:
Also, Chobe Safari Lodge is located in North-Western Uganda, at Murchison falls, this Five star Lodge will surely impress even those that don't easily get impressed over things.
The view of the racing Nile waters accompanied with the sounds of the waters and birds that inhabit all around create a very pleasant ambiance all around.
With a beautiful 3 tier separate swimming pool, terrace chill zones, a one-of-a-kind restaurant, and bar, enjoying yourselves will be the order of the days all through.
The Lodge also has a fully packed Gift shop with a variety of craft items on which your gifting game could start off to.