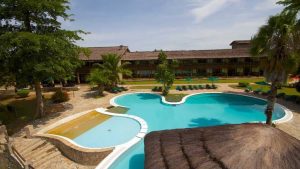 Paraa Safari Lodge:
This beautiful Paraa Safari Lodge is located in Masindi, at the Murchison falls national park.
The Lodge offers a choice of fine dining throughout one's stay, and the Explorer's bar is the ideal watering hole after a day of wildlife discovery in Murchison Falls National Park.
There is always a boat cruise over the Nile waters in the afternoons of every single day. A unique blend of comfort, relaxation and adventure are a sure green light for what the Lodge has to offer. The Lodge has a swimming pool for those that love spending time in the waters. You stay here will surely be remarkable.