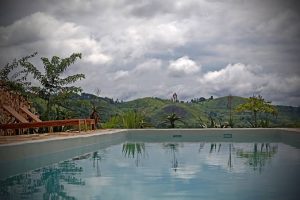 Papaya Lake Lodge:
With in the Kibale forest region there is the Papaya Lake Lodge. This lodge overlooks two beautiful crater lakes. The romantic ambiance at this place will by now mean leave you the same. The lakes created an amazing scenery for pictures.
There is a nice swimming pool at which you can watch the crater lakes from a distance, the Rwenzori mountains, and a view of the surrounding area. Privacy is a guarantee since the cottages are all set apart from each other.
To add activities onto the time for the stay, you can actually watch a variety of wildlife and birdlife from the Kibale National Park.