Uganda Among the Top Tourists Destination Cool list for 2019.
The Pearl of Africa (Uganda) listed among the Top Tourists Destination on the same list with other 18 countries shortlisted as a must visit destinations for the year 2019 according to the recent information by the UK based magazine, the National Geographic Travellers Magazine as it has been over the years.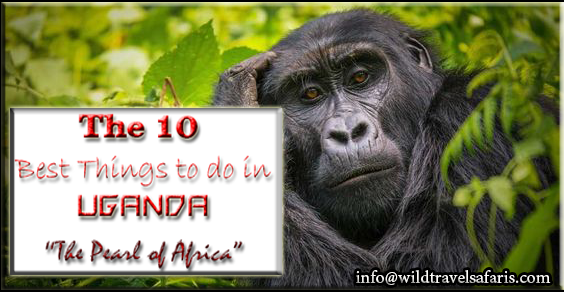 "Featuring everything from futuristic cityscapes and modernist architecture to pristine rainforest and rehabilitated wildlife, we bring you the 19 destinations set to hit the headlines in 2019" The National Geographic Travelers Magazine stated.
I understand you would really love to know what other countries were shortlisted along with the Pearl of Africa.
On the list there is;
Setouchi
Antarctica
Pittsburgh
Corsica
Cambodia
San Miguel de Allende
West Yorkshire
Hong Kong
Zimbabwe
Guyana
Oslo
Eritrea
KwaZulu-Natal
Bhutan
Dundee
Matera
Indonesia
Sibiu.
Africa has 4 destinations to make headlines in the year 2019. That is to say; Uganda, Kwazulu-Natal, Eritrea and Zimbabwe.
This is Why the Pearl of Africa (Uganda) couldn't miss on the list of Top Tourists Destination:
In the year 2017, Rwanda decided to double the price of its Gorilla Trekking Permits from USD 750 to USD 1,500. Uganda decided not to make any adjustments on its Gorilla Trekking Permits so they remained at USD 600 to effect till June 2019.
Are you out there and for a long time you have wanted to get close and watch the amazing mountain Gorillas? You are reading the right information now.
Uganda has half of the world's gorilla population in one of its national parks and i must tell you it's among the leading tourists destinations in the country, the Bwindi Impenetrable National Park (The home of Mountain Gorillas).
Over 18 gorilla families can now be visited by groups of up to 8 individuals.
It's not only the Gorillas that the country has to offer, but also a wide range of animals and birds (wildlife) from all it's other remaining National Parks.
Don't you miss watching the famous tree climbing Lions in the Queen Elizabeth National Park, Ishasha sector all in the country. Remember: in the world, there are only 2 populations of these tree climbing lions, In Uganda and Tanzania.
The list of attractions in here are endless. How i wish you tick Uganda while making your list of MUST visit destinations.
We shall lead and guide you to all top attractions and your visit will be unforgettable.