The Amazing Experience of the kazinga Channel Boat Cruise in Queen Elizabeth National Park.
Why is this Kazinga Channel Boat Cruise in Queen Elizabeth? This is mainly the best home of so many Hippos in Uganda and Different Kinds of Birds. So opt for a boat cruise along the Kazinga Channel which is a 40 km long channel that joins Lake George and Lake Edward. The boat sets off daily at 11:00 am, 2:00 pm and 05:00 pm in the late evening. The boat cruise takes 2-3 hours while exploring the waters and wildlife along the shores of Kazinga Channel.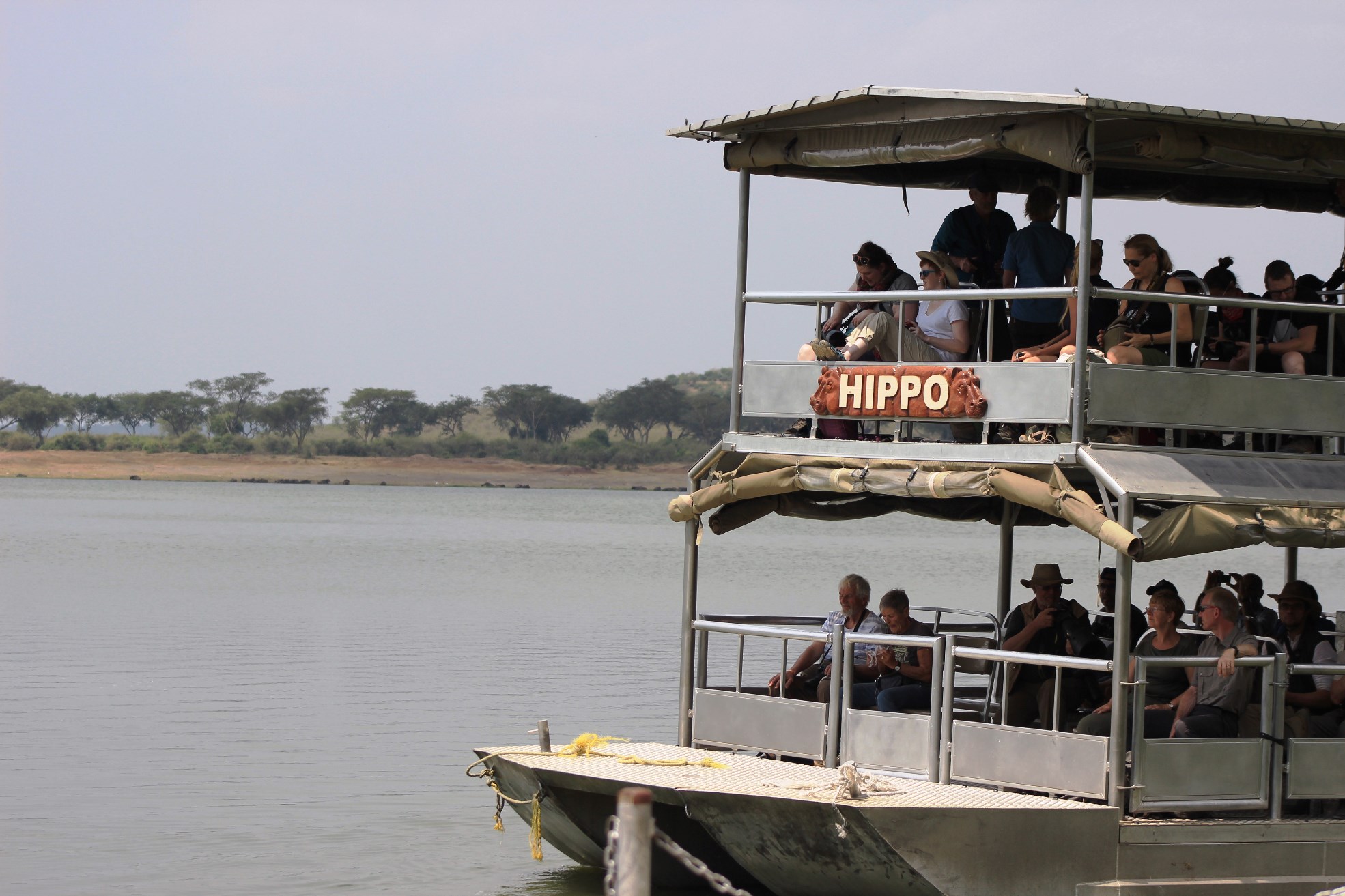 There are professional safari guides on the boat cruises who will be there to guide you by giving all the necessary information and will answer the questions that arise about the wildlife. These guides will also point out any wildlife species which you may have failed to identify.
Taking a boat cruise on the waters of Kazinga channel is among the best highlights of a safari to the queen Elizabeth National Park, It offers big chances to take memorable pictures since the boat cruise moves slowly by the shores of the Kazinga channel.
The channel supports the largest population of hippos in  the  whole world. They stay in water during day time and feed at night as you will see in the Kazinga Channel waters so as to safeguard their sensitive skin that is greatly affected by the sun's heat.
The basking crocodiles are so many along this channel and you will notice many of them. Years back, these crocodiles were not in this lake mainly because of the volcanic eruptions however within the recent years, they returned via the River Semuliki valley. These can be spotted on your boat cruise along the channel in Queen Elizabeth national park.
During afternoons, you can also spot herds of elephants, Buffalos, and waterbucks that come to quench up their thirst. Lucky visitors will also spot mating elephants in the waters of Kazinga channel.
The channel is not only the best place for bird enthusiasts, but also passionate to those who love watching wild animals drinking water at the shores of the channel. Among the common bird species to look out for here, include; the African fish Eagles, African spoonbills, great Cormorants, African Skimmers, Pelicans, in addition to the occasional hard to pin down Shoebill Stork. This means that a boat cruise is something which shouldn't be missed,