The Mighty Dancing Stone at Ukerewe Island in Lake Victoria.
Ukerewe island where you can see the Dancing Stone; is one of the largest island in Lake Victoria and the largest inland in Africa, with an area of approximately 530 km²q with more than 60 tribes. The over roll population its approximately 350,000 people living in that island.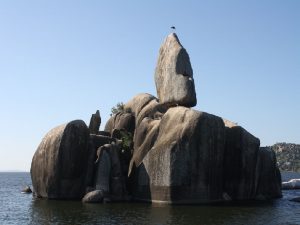 Ukerewe Island is situated in the Ukerewe District of Tanzania, 45 km (25 nautical miles / 3½ hours) north of Mwanza to which it is linked by ferry. But there is a shorter vehicle ferry crossing of only 3.8 km for 30 minutes by ferry also links the island across Rugezi Channel to a dirt road on the eastern lake shore, which runs to Kibara and Serengeti national park. In this area, there are discovered new attraction opportunities which are very unique in the world.
The Activities in the Area;
1: The Dancing Stone,
Come and see how the natural stone dance after receiving an order from the owner, it is owned by the family. The stone is very large vertically it is about 4 meters to 5 meters and horizontally is about 8 to 9 meters. This is really so Amazing to see and very fantastic.
2: Canoe and Speed Boat Cruises on Lake Victoria.
In the largest lake, we have a life jacket, but the water is clean not salt water, you can chose to use a speed boat by machine or to do canoe all is wooden boat!!! For sure you will enjoy There are potential activities like
Walking
&
Cycling
in the Cassava Plantations, Practicing the
Fishing activities
and also enjoy the presence of the smiles of the
LOCAL PEOPLE
With information about the
accommodations,
there is a good tourist hotel, the Name is yet to be found out soon.