Did you know that Rwenzori Mountain is Africa's Botanic Big Game?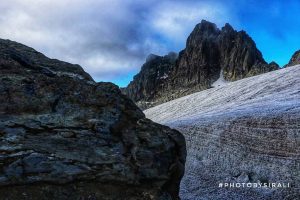 Here are beautiful facts about Rwenzori Mountain "The Mountain of the Moon", Rwenzori mountain is Africa's tallest mountain Range located on the border of Uganda and DRC.
The mountain has Africa's 3rd, 4th and 5th highest points.
It seats 6 mount peaks which are stanley, speke, Baker, Emin, Gessi, and Sovioa. Stanley's Margherita peak at 5109m is the 3 highest point in Africa.
The peaks are covered with snow throughout the year. This makes it a unique attribute to the mountain because of its close proximity to the Equator line.
The Mountains have a rich flora and fauna life with over 217 bird species, 6 species of amphibians and over 9 species of reptiles. 12 endemic mammals inhibit the lower slopes of the mountain.
The 5 distinctive vegetation zones offer a very beautiful scenic view to any mountain climber they range from the montane forests, bamboo forest, tree heath-bog hagenia rapane, scrub and afro alpine moorland.
The montane forests harbours various mammals including giant forest hogs, forest elephants, chimpanzees, Rwenzori otter, sporadic leopard among others.
A variety of bird life, ranging from the albertine endemics are found in the park proximity for example the Rwenzori turaco, Rwenzori double collared sunbird, Rwenzori nightjar, Archer's robin-chat making the Rwenzori mountains a rewarding place for the bird watchers.
The three horned chameleon endemic to the park are some of the attractions you cannot miss out while in the park.
For more information about the Rwenzori mountains, contact us!