How to Book Uganda Gorilla permits for 2022, 2023, 2024, and any time of Tomorrow.
Trekking of Mountain Gorillas in Uganda is always available in Bwindi impenetrable National park and Mgahinga Gorilla National park. So in the given National Parks, How to Book Uganda Gorilla permits for your Gorilla Encounters are always Available. Gorilla trekking is the trending Uganda Highlight Safari. So many the tourist work hard to go and encounter this one best adventure safari in Africa.
Book Your Gorilla Permit With Us Today
Mountain Gorillas are only located in the Virunga Volcanic Areas which is covered by 3 countries; Uganda(Mgahinga Gorilla park), Rwanda(Volcanoes National park) and Dr Congo(Virunga National park). Then the half remaining of the gorillas is in Bwindi Impenetrable national park forest still in Uganda.
Uganda Gorilla Permits
Uganda Wildlife Authority  (UWA) is the Lead responsible for issuing the Uganda gorilla permits. Every day gorilla permits are issued out. UWA issues 88 gorilla permits per day to Bwindi Impenetrable National park for 11 gorilla groups. For Mgahinga National park, 8 permits are issued every day for 1 gorilla group.
Therefore, there is a total of over 90 Uganda gorilla permits that are issued on a daily basis in Uganda.
In order to do Gorilla trekking in Uganda, you are required and supposed to book a gorilla permit earlier before your Tracking Date. So Booking should be done before the trekking day as I said before to avoid being neglected a chance to see the gorillas after long travellings.
Always to have an organised arrangement for having permits we always advise our Clients to book within a period of 2 months to 1 month. Because currently, the permits are so competitive making a task of the earlier the better work so worth.
Again these Gorilla permits, while your placing in your booking, you will be asked which tracking sector you would like to track, normally it's very easy for us wild Travel safaris to know the tracking location. So this will ease knowing the availability of the gorilla trekking permit for that given day.
The 2019 Uganda Gorilla trekking Permit will Cost
The price of Gorilla trekking permits is to remain at $700 throughout the year until further notice. If we Compare Rwanda gorilla permits, they cost $1500 and DR Congo's is lower at $450.
Before the 2018 announcements by the Uganda wildlife Authority having the gorilla permits stick on $600; we used to have Discounted Uganda Gorilla permits during the months of April, May and November at a cost of $450 per permit.
Booking for an Uganda Gorilla permits for a 2021 gorilla trip.
Uganda Wildlife Authority (UWA) is responsible for booking your gorilla permits at the Kampala Head Office. As well as a permit Booking can also be done on an individual basis or through Wild travel Safaris.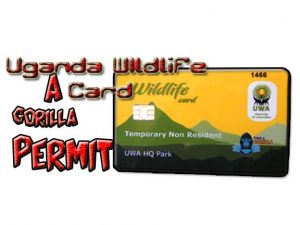 Book Tour Uganda Gorilla Safari through Wild Travel Safaris
How to Book Uganda Gorilla permits through UWA
While booking with Uganda Wildlife Authority (UWA); Make sure you reach their website and send them an email with your details. They will be able to check the dates you desire and then let you know about the availability of Gorilla permits on that specific date.
However in case, the permits are not available, then you can ask them about the dates where gorilla permits are available. Upon confirming the date, you will then transfer the money to UWA accounts.
Note: You are required to pay for the bank charges otherwise the gorilla trekking permit will not be confirmed.
Upon finishing the payment, you are then required to send a scanned copy of the receipt by email to the Booking office for confirmation. The process may take between 2 to 4 days before they confirm your dates and then they will send a scanned copy of your Gorilla permit. The permit should show your full personal details,(name, Passport number, Home Country) the gorilla trekking date and the gorilla group to be visited.
The only task left for you is to show up on the Gorilla trekking day.
Just Book Uganda Gorilla permits with Wild Travel Safaris
However in case, you don't want to stress going through hustles, Wild Travel safaris always can be in place to reach the Permit booking for you. In case you will go ahead and do the trekking safari with us; No extra charges will be involved, we will incur the safari for an experience.
The booking process is similar to the one above.
When you arrive, our driver will pick you from the Airport and then transfer you to your hotel. Then the next day will be for driving to Bwindi impenetrable National Park or Mgahinga Gorilla park for the gorilla trekking experience.
The Gorilla trekking day in the safari itinerary depends on the day booked for. So Wild Travel safaris have very flexible Uganda gorilla trekking safari itineraries that are adventurous and memorable. Most of all time we combine the gorilla safari with other Wildlife and Adventures including; Chimpanzee tracking, Wildlife expeditions, Water rafting, Mountaineering, Nature walks, Cultural tours, Canoeing and Bird watching.
Note: However, in case you only want the Uganda Gorilla permit for 2018, then will do the booking for an additional fee of about $32.
For any additional information, please feel free to send us an email: To Ease the lots of Questions about the Uganda Gorilla Permits on info@wildtravelsafaris.com