Fly into Rwanda Trek Gorillas in Uganda. Getting this into my mind, this is how the whole process comes abt;
Why do you have to Fly into Rwanda Trek Gorillas in Uganda? It is on record that the Pearl of Africa (Uganda) has over half of the world's mountain gorilla population just in one of its national parks, and this is Bwindi Impenetrable National Park. I believe you would love coming close to them in a place where you are sure of seeing them in a variety.
This whole process is surely going to help you in a number of ways, look at this!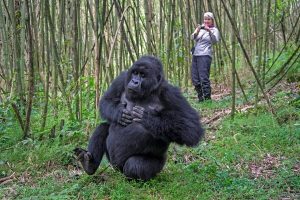 You are going to save TIME, MONEY AND HAVE DOUBLE FUN.
TIME;
Landing in Uganda at Entebbe, it will take about one and a half hours to get to Kampala, from Kampala to Bwindi Impenetrable National Park or Mgahinga National Park also takes about 8 – 10 hours of road drive. Getting there safely is a guarantee but that will be quite a long way to travel.
Then saving TIME comes this way around;
If you possibly land at Kigali International Airport, a drive from Kigali to the Uganda border takes about 2 and a half hours, and right from that point, a drive to the Top Gorilla point (Bwindi Impenetrable National Park) is an hour's drive. Making the whole process take about 4 hours right from Kigali and of course the same time getting back to Rwanda.
MONEY;
I talked about this in one of our previous blog posts. Let's know what it was again;
A Gorilla Trekking Permit in Rwanda costs $1500 per person, and in Uganda, it costs $600. Mathematically there is a difference of $900 between the two figures. The difference is your saving after taking the Fly to Rwanda Trek Gorillas in Uganda process.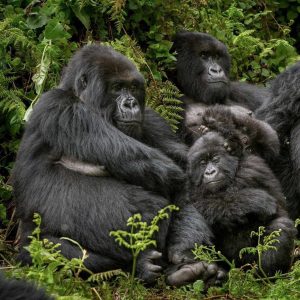 DOUBLE FUN;
On this, of course, expect double fun. How? Landing at the Gateway to the land of a thousand hills (Rwanda) will have opened to the unending beautiful hills being backdrops on the sides of the country.
While on your journey to Uganda, your eyes will be seeing beautiful surrounding, locals, and other beauties of Nature. At the border crossing to Uganda, it will be an open point to the popular land of mountain gorillas.
The all-green vegetation will amuse you, and singing birds and animals in free movement will all be a nice look at. There are a number of Lodges and Hotels at fair pricing but with excellent service. This is an assurance that you will get excellent places to relax your selves at.
With good restaurants at the different Lodges, feeding will also be a great activity. Lodges like the Gorilla Safari Lodge will give you a good treat like the others too will.
You can possibly add more activities to make the adventurous safari more memorable.
The Golden Monkey Tracking in the Mgahinga Gorilla National Park.
The Hike of the 3 Volcanoes; Mt Sabinyo, Mt Gahinga, Mt. Muhabura
Bird Watching: there are a hundred of beautiful bird species of which this bird activity is able throughout the country.
Game Drive, You will take a glance at the Tree Climbing lions, and other animals. Their Hundreds of mammals and beautiful scenery will all make the process more interesting.
through the Bwindi or Mgahinga National Parks can unveil to you more amazing Wildlife apart for the Gorillas.
Trek the Mountain Gorillas: This is actually a process you will surely ask yourself why you had never thought about it before, but it's right here for you. I really thought you would read and figure out this. Doing this for a couple of years, I took love and enjoy this process I believe you too will enjoy this.
Great smiles and fun will be the order of the day if we ever get to lead and guide to this adventurous time.