Nshenyi Cultural Village – Experience a traditional lifestyle of Ankole people.
Nshenyi Cultural Village is located on a farm near Kitwe Town on the edge of Ntungamo District. It is a thirty minute drive from Ntungamo Town centre, or an hour's drive from Mbarara.
Traditionally, Nshenyi is a pastoralist area. The terrain is characterised by endless rolling hills, savanna grass and acacia trees, an environment that is ideal for rearing cattle.
Agriculture is another economic pursuit of the people of Nshenyi. There are large tracts of banana plantations and a variety of subsistence and commercial crops on many farms in the area.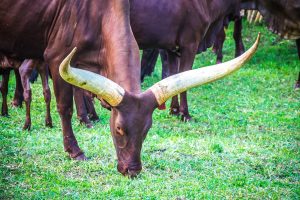 How it Feels when you're at Nshenyi Cultural Village.
"When you stay & Visit here, you get the most amazing time! We again highly recommend it to anyone who loves nature, clean air, beautiful people and amazing hosts."
When you visit Nshenyi you will get to experience the traditional lifestyle of Banyankole people. Through the various activities, you will immerse yourself in the community through nature walks, visiting homesteads and learn about the farming tools and techniques passed on through the ages.
You will also visit some of the local schools, walk through the local markets and visit with the Batwa pottery makers. You can also walk along the Kagera River and cross into Tanzania and Rwanda.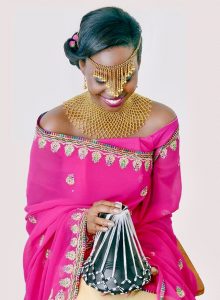 There is quite a number of activities that always keep you busy at Nshenyi Cultural Village.
Experience the Traditional Music and Dance of South-Western Uganda
Participate In the Milking Of Long Horned Ankole Cows
Watch Milk Being Processed and Presented
Go For an Uphill Hike to Visit Farmers That Harvest Honey from the Caves and Rocks of the Surrounding Hills
Learn About Traditional Homestead Crop Cultivation and Food Processing
Visit the Batwa Community and See Their Pottery Works
Drive To Tanzania and Cross the Kagera River
Drive to Rwanda through the Mirama Hills Border
Visit Local Homesteads, Markets and Schools, Interact With the Community
Take Nature Walks through the Farm
Tree Planting on the Farms
Bird Watching along the Nshenyi Farms.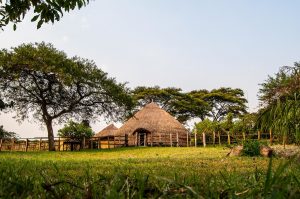 A traditional hima homestead (eka) is a circular kraal with several grass thatched huts.
The largest hut belongs to the head of the family. Calves are kept close for protection in small pens (ebihongore); The milking area is situated in the front of the house (eikamiro); and the fireplace (ekomi) would be in the centre of the kraal.
During the night, the entrance of the kraal would be blocked off with logs (emihingo).
A traditional Hima hut is shaped like a dome and divided into three parts. A common seating area (omuryango), two bedrooms (ebitu) and an open enclosure in the back (ekikaari).