Turaco Treetops on the edge of Kibale Forest.
Turaco Treetops is on the site of the old Chimps Nest, and approximately 5 km from Kanyanchu. As its name hints, it is a great place for chimpanzee trackers, birdwatchers and more.
The main lodge building has a real WOW factor! The living area comprises a rather grand restaurant and bar, fireplace, downstairs and upper deck lounge areas (with excellent view of the swimming and the forest beyond).
Turaco Treetops has eight huge rooms (self-contained) cottages, set well apart from each other. I had a tour of cottages no. 2 and no. 7 (this being the closest to the forest). I particularly loved the wooden deck areas.
The kids play area is an immediate hit with young visitors. This cosy room has big comfy cushions, a ton of story books, games, colouring books, pencils and crayons, and a TV (available for parents to commandeer when the football comes on!)The kids treehouse and zipline (currently being constructed) are conveniently close to the restaurant so parents can keep an eye on the little ones while chilling with a drink. The kids outdoor play area will soon have a sandpit and swings.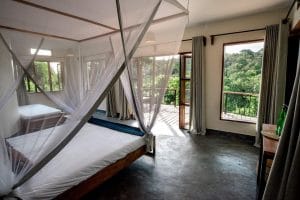 The lodge has a wide selection of games and books to entertain you and provides free drinking water throughout the day (no horrible throwaway plastic bottles). The lodge includes unusual design details such as the bar lights (solar-powered of course) made from Weaverbird nests!
During May 2019, prices are $100 bed-and-breakfast only for any number of people sharing one room. The spacious rooms have large double beds and one extra bed (which can be single or converted into a double bed) so can easily accommodate a family with 2 or 3 children.From June, a night at Turaco Treetops will cost $120 per person or $200 for a couple (full board).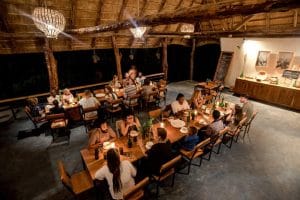 We're talking top end accommodation and food at a mid-range price by the way!Terms and conditions: Turaco Treetops will be fully open to customers from June and has a lot of bookings already for this coming season. Any guests staying during May should be aware that there a few finishing touches being made to the lodge so to expect a little bit of disturbance.
For enquiries, contact us through