The Sezibwa Falls
The Sezibwa Falls located in mukono District about 20 miles running on the Kampala Jinja highway.
It's a heritage site affiliated to the Buganda kingdom.
The falls are on the river sezibwa that flows from between lake Victoria and Lake Kyoga.
The falls are at a height of about 7 metres high.
The way water fights for way through creates a an audible hissing sound.
The falls beautiful sceneries covered with an evergreen vegetation is accompanied with a range of wildlife.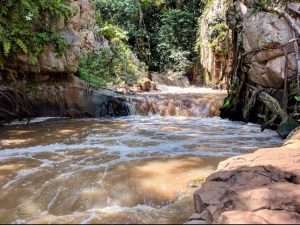 Just a day back while beginning to bring real fun in our clients of the day, this was our first stop over. And indeed it's only smiles they wore.
This is one of the places you need not to miss while on your visit to the Pearl of Africa.
Interesting thing about This is; You can actually get a single day maybe be over the weekend. We have fully designed single day packages that will lead the fun way through to Jinja, the town of adventure with interesting stopovers.
Including, the Sezibwa Falls, Mabira Forest, and the Source of the Nile and other interesting points. We are www.wildtravelsafaris.com.