The Martyrs Day at Namugongo, Uganda
The Martyrs Day at Namugongo, Uganda. If it's a faith based safari in Uganda, and not heading Namugongo martyrs' shrine, then it's not worth it. Where else would a religious tourist in the pearl of Africa go if not to one of the biggest catholic churches in Uganda?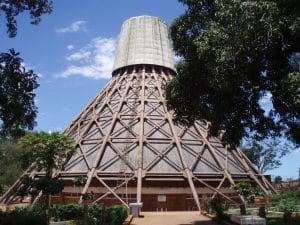 Besides that, Namugongo Shrine is still hosts one of Africa's biggest pilgrimages in Africa every 3rd of June in a year. An event that attracts millions of people from different corners of the country and neighbouring countries for the Uganda martyrs' day celebrations.
3rd June is a very important day to the Christians in commemoration of the young Christian men who were slaughtered under the order of Kabaka Danieri Basammula-Ekkere Mwanga II Mukasa of Buganda. Their only crime was having a faith and believing in God yet the king and the whole kingdom believed in local small gods.
The fact that Christianity was brought by the British foreigners,
The Buganda king was afraid that the people who had believed in this Christianity would one day merge up with the British and overthrow
them. After a few warnings, he ordered his next man Mukajanga to slaughter all Christians in Buganda.
45 young Christians,
Both Catholics and Protestants were burnt live and none gave up their faith in fear of being burnt. It is this courage that they had that touched millions of hearts and feet of people to make this pilgrimage each year that comes up. The story behind is simply heart touching, how all these saints were brutally burnt including Mukajanga nephew, the youngest of all who was called Kizito omuto.
Two weeks to 3rd June,
Pilgrims start walking to Kampala, different people from as far as Nairobi, Kigali, Mwanza and Bujumbura and far regions of Uganda walk on foot to Namugongo shrine, just to remember and pray for their saints who bravely gave up their lives for Christ.
It is recorded that even when some of the 45 martyrs were left to wild animals to feed on, others burnt live, no one died begging for mercy or carrying any bitterness. It is perhaps this moving action that influenced two popes to make that pilgrimage to Uganda. It is surely worth it on your next travel itinerary.
It's a yearly event that brings together thousands of people, from tourists, religious people, business people, students and many others. If found in Uganda around June, don't deny yourself a chance to attend this amazing pilgrimage.