The Bush Lodge at Queen Elizabeth National Park for a Rustic Eco Experience
Bush Lodge was the most rustic but most professionally run place that we stayed at on our safari in Uganda. The Lodge is located on hippo trails and you can hear hippos grunting in the night as they come up from the Kazinga Channel to feed.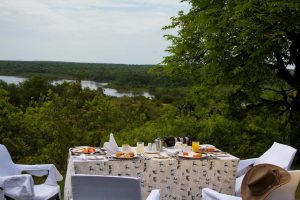 The staff will walk you back to your room after dark if you don't have a strong torch (or if you are afraid of hippos!). There are security patrols all night long.
The Lodge sits on a more open plain and there was plenty of ambient light thanks to the full moon outside. Bush Lodge did have mosquito nets but did not provide bottled water for the tent.
Classed as an ecolodge, our tent had a drop toilet (just add a scoop of the provided wood chips after each use). The sink and shower were both outside and surrounded by an approximately 5 foot high fence. As a city person, I found it unnerving to go outside at night to wash my hands (especially when I could hear hippos grunting nearby). I ended up using lots of hand sanitizer instead. You need to order a shower at Bush Lodge in advance and one of the staff members will deliver hot water to your tank in large buckets.