14 Days Paradise Holiday Adventure Safari
Here are our 14 Days Paradise Holiday Adventure Safari to Travel to Uganda for 14 Days Safari offering gorilla trekking tours, wildlife safaris in Uganda National Parks like Bwindi Forest, Murchison Falls, and many more awesome rewarding Parks. This is a possible program for the 2 weeks in Uganda. It has better-calculated prices and is very convenient for families and groups of friends.
Day 1: Pick up and drive to Kampala.
Pick up the
Day 2.
Drive to Lake Mburo National Park. Afternoon Boat Cruise with En-route Game Drive.
Day 3.
Morning Game drive, Have Lunch in Mbarara, and drive to Lake Bunyonyi
Day 4.
Lake Bunyonyi Activities, Boat to visit the islands, Zipiling on the lake, and Community Walk.
Day 5.
Drive to Bwindi Gorilla National Park.
Day 6.
Gorilla Trekking Day is for only Adults that are 15 years and above and Drive to Ishasha or Sleep an overnight.
Day 7.
Morning Game drive to look for the tree-climbing lions and later drive to Queen Elizabeth National Park in the North.
Day 8.
Morning Game drive and Evening Boat Cruise at the Kazinga Channel. You will be in place to see a lot of Hippos, Crocodiles and water birds.
Day 8.
Drive to Kibale Chimpanzee National Park and Have an evening visit to the Caves in Fort portal.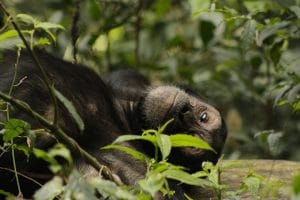 Day 9.
Chimpanzee Tracking and Bigodi Wetland walk and Visit the Communities for Activities.
Day 10.
Drive to Murchison Falls National Park. Have Lunch and Visit the Powerful Water Falls cross the River with the Ferry and drive to the lodge.
Day 11.
Morning Game Drive to look out for Elephants, Lions, Leopards, Giraffes, and So many animals. Get back to the lodge for lunch and Have an afternoon boat cruise.
Day 12.
Drive to Jinja the Adventure City in Uganda. Have Lunch and Have a Boat Cruise on Lake Victoria to visit the Start point of the Source of the Longest River.
Day 13.
Today it is white water Rafting and Quad Bikes if time allows and then drive to Kampala for the overnight.
Day 14.
Depending on your flight time, we will either drive around Kampala or Entebbe and then drive to the Airport.