Best Places to see Elephants in Uganda.
If Uganda is something else besides the Pearl of Africa, then it's a hub for wildlife with the Best Places to see Elephants in Uganda. A country with countless mammal species, more than 1000 species of birds, over 400 primate species, numberless reptiles and butterfly species not seen anywhere else in the world rightly qualifies to be called a wildlife shelter.
The fact that most Uganda safaris focus mainly on the mountain gorillas in Bwindi impenetrable forest national park and Mgahinga national park, doesn't take away the reality that Uganda has much more and better wildlife to view in her ten national parks. It's a guarantee that no visitor ever leaves Uganda's savanna parks without sighting at least of the big five animals.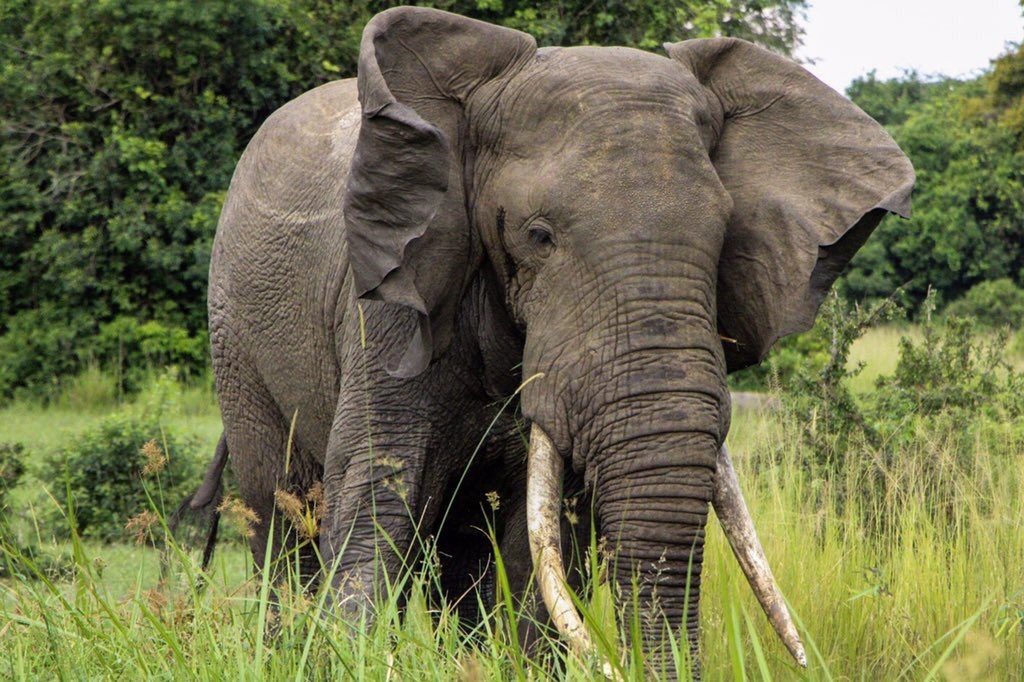 Yes, the buffaloes, lions, cheetahs, hyenas, leopards, zebras, giraffes, antelopes, waterbucks, topis, oribis, hippos, chimps, monkeys and so many others are all available, and be sure of having great encounters with them.
But a close encounter with the largest wild mammal, the elephant is an experience that cannot be easily forgotten.
Living in the wild for about 50 – 70 years, though some go up to 80 years, the elephants in Uganda weigh between 3500 kgs and 12000 kgs. Females are usually slightly smaller than the males and baby elephants weigh about 105 kgs. The good thing about Uganda's elephants is that they keep on increasing in number. And if you ever wanted to spot the elephants in the wild, consider the five best places below.
Queen Elizabeth National Park.
Located in southwestern Uganda, this park is the prime home for elephants in Uganda. Both forest and savanna elephants can be spotted on game drives in Queen Elizabeth national park. Visitors on safaris in Uganda to this park see elephants very close to them at even their lodges. A launch cruise at Kazinga channel still exposes travelers to more elephants that come around the water pond for drinking water.
Murchison Falls National Park.
With the increasing population of elephants in this park, it is the second best place to see savanna elephants in Uganda. Visitors usually spot huge herds of elephants on game drives. Actually it is even not advised to keep edibles in visitors' quarters as elephants can easily break the wall just to get to aroma of the eats they feel. And that is how close elephants can get to travelers in Murchison falls national park.
Kidepo Valley National Park.
This is the most remote park in Uganda located in far northeast of the
country. Ranked the third best park in Africa, Kidepo valley is an amazing place to see wildlife including the savanna elephants. The park offers the best game drive experiences in Uganda no visitor has ever left the park without sighting herds of elephants in this park.
Kibale forest national park.
Though it is not the major attraction here, elephants are nonetheless one of
the wildlife species visitors are likely to see. Kibale is popularly known for chimp trekking it being the primate capital of the world with more than 400 chimp species. However, trekkers usually meet forest elephants in their hunt for the chimps. In fact it's the best place to spot forest elephants in Uganda.
Bwindi impenetrable forest national park.
Even if this park if famously known for gorilla trekking in Uganda, still trekkers can easily meet the forest elephants, though it is not very common. Elephants are very few in Bwindi, but being few doesn't remove it from the list where trotters can spot the elephants in Uganda.
If you are tripping in Uganda, and a safari happens to go to any of those places, be sure of spotting the huge elephants in the wild.