Kalinzu Forest Reserve for Chimpanzee Tracking & Bird Watching
Kalinzu Forest Reserve for Chimpanzee Tracking. Today the internet has continuously been flocked with personal accounts about gorilla trekking in Uganda, and yes, this is a very perfect product in Uganda, and if not done before, it's high time you thought of a gorilla safari in Uganda for an experience that is one of itself.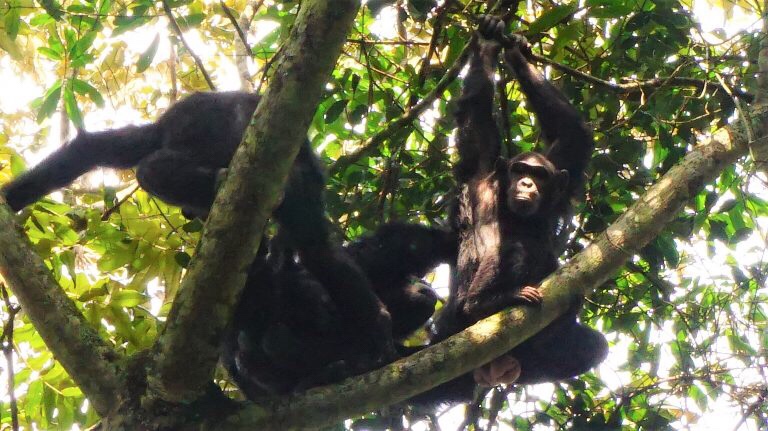 Nevertheless, we cannot forget that chimpanzees are other amazing features to behold, though they are always in the shadow of their greater giant cousins; the gorillas and this has made most of the primate viewing lovers miss out on their safaris in Uganda.
Uganda is luckily among the 21 countries in Africa still blessed with the chimpanzees, they were 25 countries but they extricated from the four countries, and it is also believed that in the next 10 years, they will have depleted from other 10 countries.
Chimpanzee trekking in Uganda has not been given much attention as a tourist attraction and the only few fortunate tourists have only tracked the chimpanzees in Kibale national park leaving out other magnificent chimp trekking destinations like Budongo Forest, Kalinzu Forest Reserve and Kyambura gorge.
Just going through the chimpanzee trekking experience in Kalinzu Forest Reserve. When you ever think of watching Chimpanzees in the Wild of Western Uganda, Kalinzu forest is the secondly recommended after Kibale Forest with a high success rate of observing chimps at a very friendly cost of 110 USD.
The variety of tree species made this forest simply a perfect home for more than 220 chimps that everyone on a chimp hunt in Uganda is recommended here. Chimp trekking in Kalinzu forest gives a unique experience that no other small forest reserve can. An all day trip to this place can do you better
than expected.
Walking through the lush while dodging, ducking and pushing your way through the thick branches, damp dirt and leaves. Being covered in burs and plant particles, you continue to move up the steep terrain, having to grab on to tree branches and strong vines to help you pull up, step by step as you try to reach out to the direction where the sounds of these chimps are heard.
The reward in the end of the trek in Kalinzu Forest Reserve, with even ants under your shirt and crawling at their will, is worth it all. You finally meet these humble apes in the jungle and have an up close encounter with them.
Seeing these chimps is a rare and special treat that you shouldn't miss. Kalinzu forest reserve is not only known for chimp trekking, but also for its approximated 414 tree species, 379 bird species 378 Species and the six different Primate species including the Blue Monkeys, Vervet Monkeys, Black and White Colobus Monkeys. So it would still be a perfect spot for birding in Uganda as well as research studies.
Situated only 10 kilometers west of Ishaka Town in Bushenyi district, Kalinzu is a natural forest and one of those special places that you have always wanted to see. It is close to Queen Elizabeth National park,
so other wildlife species can also be spotted like the warthogs, buffaloes, duiker, elephants, and waterbucks plus so many others.
Indeed, Kalinzu Forest Reserve is one destination is that you shouldn't miss while on any safari in Uganda. It exposes you to the unique beauties of the country hidden in the corners.