Gorilla permit Price in Uganda increases to $700 effectively July 2020
The one morning as awoken and a Gorilla permit Price in Uganda increases to $700 effectively July 2020. So we still have the chills of uprising and taking this ample time to utilize the only $600 permits thats will remain in uganda for this rest of time.
GORILLA PERMIT INCREASE
One of the world's remarkable wildlife encounter is trekking the rare mountain gorillas in the remote forests of south western Uganda. Spend time watching them closely snacking foliage to fill their large bellies, the young ones jumping from branch to the other as the silver back keeps an eye of security to the group, what an quintessential experience!
A gorilla permit is a very significant tool when it comes to trekking these gentle giants.
A gorilla permit is a document or card issued by Uganda Wildlife Authority (UWA) that allows any traveler above 15 years of age to trek mountain gorillas in any of the two habitats; Bwindi Impenetrable national Park and Mgahinga National Park.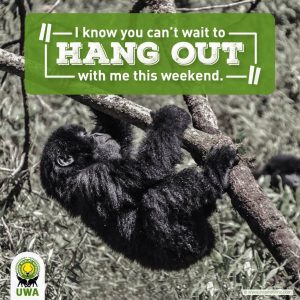 With effect from 1st July 2020, Uganda gorilla permits will cost $700 each. After many years of selling gorilla permits at $600, the Uganda Wildlife Authority has made a move to increase her gorilla permit by $100 to $700. Conservation of the endangered mountain gorillas is the major reason for the increase of gorilla permit prices in Uganda.
Despite the increase, Uganda's permits are still affordable and at low cost compared to neighboring Rwanda which costs $1500 each, Democratic Republic of Congo which is the most affordable of all the three gorilla trekking nations is still not very safe to visit! Uganda remaining the most affordable and safe mountain gorilla trekking destination.
According to the 2018 gorilla census, Uganda is home to over 400 mountain gorillas, which is half of the world's mountain gorillas counting to roughly 1004 species. These gorillas inhabit the jungle forests of Bwindi Impenetrable and Mgahinga gorilla national parks
🇺🇬The longer you wait, the more it will cost! 🇺🇬 Book now on info@wildtravelsafaris.com
Contact us and book your Gorilla permit so early enough for the better goal ahead.